---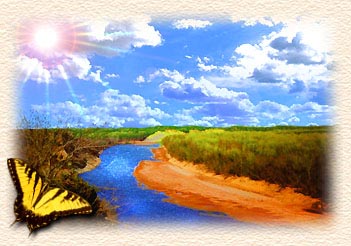 Do you need a place to go for the year 2000? Some experts are predicting major ecomomic problems because of the well publicized computer problems involved with the so-called Y2K problem. Other experts are predicting such major disasters as water shortages, power outages causing major black-outs, or brown-outs in our metropolitan areas, and others are concerned about essential shortages even in our basic food supply. Some experts predict this could be amoung the worst disasters in human history. Almost all experts in the field are predicting at least temporary problems and shortages that could easily compare to the "Great Depression" of the 1930's.
If even a small portion of some of the anticipated problems occur as the year 2000 begins, others more optomistic concerning the "real" problems predict at least fear among great numbers of people, especially in our metropolitan areas causing panic and perhaps even violence.
I Personally don't know if there will be genuine problems caused by the Y2K computer problems, or even a major panic caused by fear, but, I am a husband and a father of three children and I feel that with such responsibilities that I need to prepare for the worst case scenario.
With the predicted problems, and my families possible survival and safety at stake, I started putting together a plan for dealing with all possible problems we might be faced with. Let me tell you, I found very quickly that it is expensive for a person to do all that is necessesary as an individual. However, I am still obligated to do all I can for myself and my family, and I realize I have only about eight months to prepare for the future.
In my study, I find that the things required for surviving the possible shortages, panic and other possible problems are really only the mere basics. With this in mind I started looking at and pricing land and formulating a plan.
Now, here is the idea I am presenting to you and others who feel the same as I do about the future and our families.
Here then is my plan, which I would like to share with you!!!
I have located land in an excellent location for the needs we will have. The land has easy access, and area geographically that will not have extreme cold weather in the winter. There is a water well and access to a fresh water spring water source. A river and a few ponds for fishing are readily assessable, as well as a vast wooded area for hunting all kinds of game.
As you can see, all the basic elements to make it through any problems are in this package.

What I need, and what your opportunity is then, is this:

I need 297 people to work with me. To purchase this land in question I need 297 people to buy a 16 month package that would give each participant the following:
1/4 acre of land for 16 months
A garden area, both individual and common
Unlimited water from our deep well and spring
Rivers and ponds for fishing
Over 7500 acres to hunt and fish
Rest Rooms
Grills for cooking
Lists of dealers to provide, at special rates, all essentials such as:
tents
wood stoves
generators
all other supplies required


The participation is offered to individuals and families.
All funds received are escrowed through a registered "Escrow Account", and all funds are fully protected and refundable if the entire program is not finalized and closed within our deadline period which would be October 1, 1999. Prices for the package are as follows:
1st person on a participation.............$2,400.00
2nd person...........................................$1,600.00
3rd and subsequent............................$1,200.00
Children under the age of 12 are free when on a family package with parents.This is $4.95 per day for individual participation or as little as $3.29 for a family of four." What A Small Cost for Insuring Your Family's Future "
Your escrow deposit will assure you of a participation if we can complete our offering by October 1, 1999.

If our offering is not closed and completed by October 1, 1999, all funds will be returned to you by November 1, 1999.

Our location is in Southern Oklahoma, conveniently located between Dallas, Texas and Oklahoma City, Oklahoma with easy access to Interstate Highway 35.

We Have a Limited Number of Participation Offerings So please act now!…Come and see the Stars!

If you have interest in further information about our program please contact us by clicking here. Or by phone @ (580)276-5573.

Visit our sponsors:

Organic Food Y2K Emergency Survival
---